USS Cavalla
Cold War Missions
---
Atlantic Operations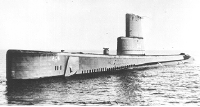 Cavalla was recommissioned 15 July 1953 , LCDR W.R. Banks, USN, commanding. She was assigned to Submarine Squadron 10 in New London. While in Squadron 10 she participated in local operations with the exception of her shakedown cruise to Quebec, Canada. Her new sonar made Cavalla valuable for experimentation and she was transferred to Submarine Development Group 2 on 1 January 1954, to evaluate new weapons and equipment, and participate in fleet exercises.
A February 1954 exercise illustrated the new SSK capabilities and tactics required to maintain an adequate defensive posture. Cavalla engaged the new submarine K1 southwest of Iceland. In a total of 36 encounters, the two subs sought out each other and simulated submerged attacks using their passive sonar. K1 achieved an average detection range of 28 miles (11 runs); Cavalla was limited to an average of 13 miles (25 runs). In 26 cases one submarine or the other was able to achieve attack position, and 21 attacks were judged successful. By this time the big BQR-4 sonar unit was being used for attack as well as search and track; it was credited with half-degree accuracy at firing range.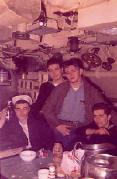 One run began at a range of 60 miles, the target submarine running for two hours on batteries at noncavitating speed (4.5 knots), alternating with one hour snorkeling at 6 knots, while zigzagging (short legs superimposed on longer ones to make target motion analysis difficult). The target sub was essentially undetectable while on batteries. Even so, contact was made at 38 miles, and 6 hours and 35 minutes later the ambushing submarine was in attack position, 1200 yards off the target's beam. This remarkable performance was attributed to the effectiveness of the self-noise reduction program and to the range of the BQR-4 array sonar, which was ten times that of the wartime JT unit.
In August 1954, she participated in SUBEX in the same area. She spent a six week tour during February and March of 1955 in Bermuda undergoing sound tests. In May of 1955 she participated in FISHEX with Grouper and K-1 which entailed a trip to Rothesay, Scotland by way of Iceland.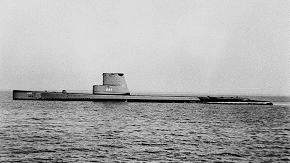 LCDR W.S. Delany relieved as commanding officer on 28 July 1955, just as the shop was committed to Philadelphia Naval Shipyard for a five month overhaul period. The overhaul was completed and the Cavalla returned to its home port in time for the 1955 Christmas-New Year holiday season.
In January of 1956 Cavalla commenced her shakedown cruise which consisted of a brief cruise to Nassau in the Bahamas. Upon returning she engaged in operations in Nantucket Sound which were followed by a Bermuda cruise. A large portion of the Cavalla's time was spent in daily operations in New London, Connecticut, evaluating special weapons. She participated in Operation Hourglass in June.
On 14 September 1956 LCDR W. S. Delany, Jr. was relieved by LCDR G. M. Hayes as Commanding Officer. Immediately thereafter Cavalla embarked on a three month Atlantic cruise visiting St. Johns, Newfoundland, Rothesay, Scotland, and Portsmouth, England. She returned to New London in time for the holiday season.
January through April 1957 found Cavalla participating in various SSK exercises in the Atlantic waters south of New London and upkeep periods at the Submarine Base. One weekend was spent on a recreational visit to New York City. In May Cavalla proceeded to the Philadelphia Naval Shipyard for renewal of a generator. June found her at Hampton Roads, Virginia, as a participant in the International Naval Review. The month of July was spent in Key West conducting evaluation firing of the MK 39 torpedo. A weekend recreational visit was made to Havana. Following an extended upkeep in August, Cavalla headed eastward to participate in the NATO Fall exercise. During this period she visited the ports of Dieppe, France and Portland, England. Returning to New London near the end of October she resumed her normal schedule of SSK exercises including a visit to Bermuda in November, after which Cavalla entered a holiday, leave, and upkeep period for the remainder of the year. On 18 December LCDR L. F. Fitch, USN, relieved LCDR G. M. Hayes, USN, ass Commanding Officer.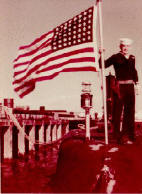 After the holiday period the ship proceeded to Portsmouth Naval Shipyard for overhaul of a main motor. Upon leaving the shipyard late in February Cavalla left for ASDEVEX 1-58, returning in May. In July 1958 Cavalla entered the Portsmouth Naval Shipyard for regular overhaul.
With repairs completed she left the shipyard in December of 1958 and resumed her project and anti-submarine work in Submarine Development Group Two. On April 19th Cavalla proceeded to northern waters for participation in LANTBEX 1-59, stopping in Argentia, Newfoundland on the return trip in June. On 16 June she commenced a one month upkeep in New London, upon completion of which she returned to project work. Operations at this time included recreational visits to Bermuda in late August and Halifax in November 1959. Upon her return from Halifax Cavalla settled down in New London for the holiday leave period which extended until mid-January 1960.

Return to Cavalla History.
---