USS Cavalla
Cold War Missions
---
Cavalla in the 1960s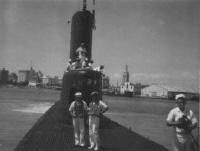 Upon completion of the holiday period Cavalla left for LANTBEX 1-60, an ASW exercise. Before returning to the United States the crew enjoyed a four day rest period in Belfast, Ireland. March and April encompassed more project work and included a recreational visit to Bermuda. On 24 April Cavalla entered the Naval Shipyard at Portsmouth, New Hampshire for a battery renewal and after completion six weeks later, returned to local operations and project work.
During the first half of August 1960 Cavalla participated in NUSUBEX 1-60. During the next month she underwent interim docking at submarine Base, New London.
Following interim docking, Cavalla conducted Submarine Development Group Two operations including two operational and recreational visits, one to Bermuda and Halifax, Nova Scotia.
Cavalla turned the new year in New London with holiday, leave and upkeep form 9 December 1960 until 23 January 1961.
From 25 January to 17 February Cavalla accompanied USS Tullibee (ssn-597) on her shakedown cruise. The cruise included an operational visit to San Juan, Puerto Rico.
Upon returning to New London, Cavalla remained at the Submarine Base in upkeep until 11 March 1961. Cavalla then went to Portsmouth Naval Shipyard for regular overhaul.
On 17 March 1961, LCDR W. J. Kraus, USN relieved LCDR R. Y. Kaufman, USN as commanding officer. Overhaul completed, 15 August 1961, Cavalla proceeded to Norfolk, Virginia for deperming, returning to New London on 19 August 1961. Until 9 September Cavalla had refresher training in the New London area. Cavalla participated in NUSUBEX 3-61 from 26 September to 30 September 1961.
From 13 October until 11 November 1961, Cavalla accompanied USS Thresher (SSN-593) on her shakedown cruise; the cruise included an operational visit to San Juan, Puerto Rico. During this period Cavallawas detached from Thresher to participate in training with Second Force Reconnaissance Company, Fleet Marine Force. This operation involved a pleasant visit to St. Thomas, Virgin Islands.
Cavalla was called upon in a unique situation on the morning of November 2, 1961. For more, see the Cavalla-Thresher Incident.
Cavalla then participated in NUSUBEX 4-61 with USS Seawolf (SSN-575) and USS Skate (SSN-578).
From Thanksgiving until the end of 1961 Cavalla enjoyed holiday leave and upkeep in New London.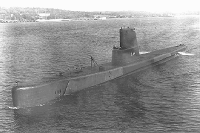 Following the holiday leave and upkeep period, Cavalla operated the week of 8 January 1962 in the NARRA BAY OP Areas and then returned to Submarine Base New London.
On 22 January 1962, Cavalla departed New London land proceeded to the Bermuda area where she conducted weapon evaluation until 5 February 1962. During this period, Cavalla made two enjoyable recreation visits to Bermuda.
Returning to New London on 10 February 1962, Cavalla remained at the Submarine Base in upkeep until 5 March. Following upkeep, Cavalla conducted four days of OP TEVFOR operations.
From 12 March until 6 April 1962 Cavalla participated in NUSUBEX. She then returned to New London and spent the rest of the month of April in upkeep.
Commencing 1 May Cavalla conducted four weeks of weekly operations in the NARRA BAY OP Areas.
Cavalla spent 3 and 4 July 1962 at Bridgeport Connecticut moored alongside the USS DEWEY (DLG-14). General visiting was allowed and members of Cavalla's crew marched in the Barnum Festival Parade. During the rest of the month of July and during the month of August Cavalla operated in the NARRA BAY OP Areas and spent one upkeep period at the Submarine Base.
From 4 September through 14 September 1962 Cavalla participated in CONVEX operations in the Virginia Capes OP Areas. Returning to New London on 17 September she commenced an upkeep period which terminated on 10 October 1962.
During the period 15 October through 24 October, Cavalla participated in NUSUBEX 4-62. Returning to New London, Cavalla loaded supplies and deployed in special operations on 25 October 1962. Following special operations, Cavalla commenced an upkeep period on 16 November at the Submarine Base New London. On the completion of upkeep, Cavalla underwent interim docking for the holiday season.
From 7 January 1963 until 18 January was involved in special operations in a Development Group project. Upon completion of these local operations, Cavalla participated in NUSUBEX 1-63 until 7 February.
On 11 February 1963 Cavallaremained in upkeep at the Submarine Base until 8 March. On 8 March 1963 LCDR E. E. Williams, USN, relieved LCDR W. J. Kraus, USN, as commanding officer.
As nuclear submarines became the mainstay of the American Silent Service, the converted diesel boats were regulated to reserve status and used as training vessels. Accordingly, Cavalla was assigned the designation AGSS-244 (auxiliary submarine) on July 1, 1963.
Cavalla remained active in ASW fleet exercises until she was decommissioned yet again on the third of June, 1968, to be recommissioned as a pierside training boat (in service, in reserve) in Houston, Texas on June 30, 1968. Her years of faithful service ended for good on December 30, 1969, as she was retired from the fleet, after nearly a quarter-century. At 1200 hours, 21 January 1971, the U.S. Navy transferred possession of Cavalla to the U.S. SUBVETs W.W.II, at the mooring site at Orange, Texas. She was then delivered to her permanent home at Seawolf Park, Galveston, Texas, completely refitted and painted to serve as a public historical memorial on April 11, 1971 (the 71st anniversary of the American Silent Service) at a cost of approximately $150,000 to the SUBVETs and the Galveston Park Board. The same day the Cavalla was commissioned for the final time as a member of the Texas Navy.

Return to Cavalla History.
Return to the Cavalla Website.