USS CAVALLA SS-244
June 19, 1999
Fifty-fifth Victory Anniversary
---
June 20, 1999
Photos by Dave Stoops
Fifty-five years ago, a small submarine named Cavalla took on the pride of the Japanese Imperial Navy, the aircraft carrier Shokaku. Shokaku was the veteran of Pearl Harbor, Guadalcanal, and the Coral Sea engagements. During the Battle of the Philippine Sea, Cavalla intercepted the Shokaku task force and sent her to the bottom of the Pacific. Today, Renee Adame and the Galveston Park Board honored Cavalla and the memory of her crews by painting a nautical mural on the construction barrier alongside Cavalla in Seawolf Park.

Here is a sample of the current developments in the fight to save the USS Cavalla.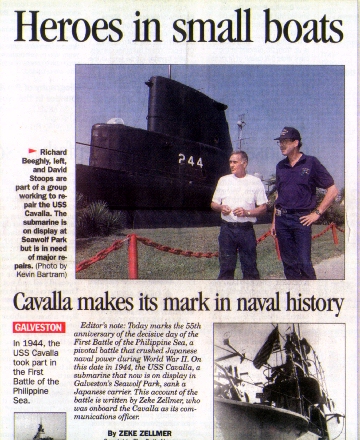 Front page coverage in the Galveston Daily News.
The Cavalla Victory Anniversary was commemorated with a first-person account by Zeke Zellmer, former communications officer aboard the Cavalla SS-244. Zellmer was part of the fire-control party during the run on Shokaku.
Also, a story by Carter Thompson on the recent achievements of the Park Board and Cavalla volunteers. Pictured are Cavalla Doc Beeghly and Chief of the Boat Dave Stoops.
---
The brightly painted nautical flags commissioned by Renee Adame, Assistant Director of the Galveston Park Board, lends an air of gaiety to the restoration scene.
---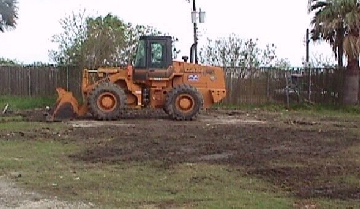 The Park Board cleared the derelict trailer from the naval display area. Now there is more room for those monster motor homes from Dallas!
---
INDEX | BULLETIN BOARD | NEWS | HISTORY | TOUR | CREWS | WWII ROSTER | PLEDGES