COMBAT AWARDS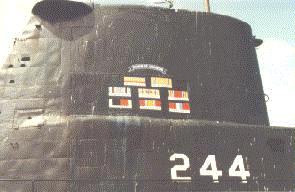 Cavalla is the proud recipient of the Presidential Unit Citation (for sinking the carrier Shokaku), the American Defense Service award, the American Campaign Medal, Navy Occupation Service award, the Philippine Liberation award, the Victory Medal, the Asiatic Pacific Medal, and the National Defense Service award.
Compare Cavalla's present streamlined sail with the original Gato configuration.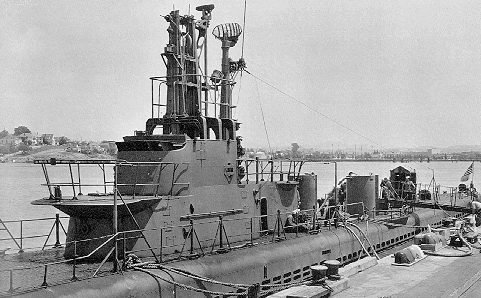 After the war's conclusion, captured German Type XXI U-boats were evaluated and found to possess superior underwater speed in comparison to current American submarines. The streamlined sail was adopted from the Type XXI, as was the general concept of German passive sonar array designs.
Below is a photo of Cavalla during her SSK days in battle dress.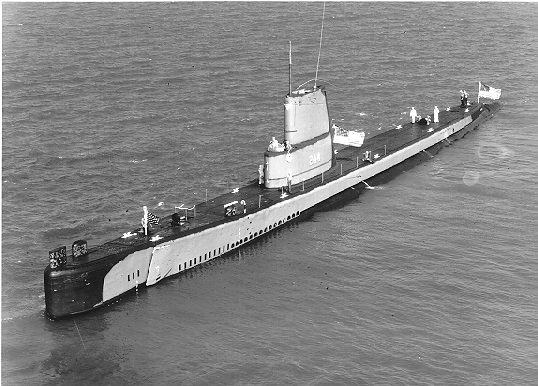 Dave Murphy of Vienna, VA remembers Cavalla in her AGSS days:

"While she was an active, mobile AGSS, CAVALLA put in an appearance for a Fourth of July weekend in Edgartown Harbor on Martha's Vineyard, Massachusetts. Due to her draft, the CAVALLA had to anchor well outside the actual harbor. Her anchorage was somewhat sheltered from the winds which tended to be rather high. I remember her being solid as a rock compared to the surface warships.

Visitors were given a rather extensive tour from the forward torpedo room all the way aft. CAVALLA had two Mark 37 torpedoes on skids forward, along with two Mark 14s. At least two of the forward tubes had "LOADED" signs on them, I believe they were the portside tubes. The upper starboard tube was open, so that people could see down the tube. I remember this because the kids all needed a lift up so they could see. The lower tube door was closed, but I don't remember a placard on the breech door. The after torpedo room was fairly clear, but I remember two tubes having placards. Again, a breech door was open..but in this case I recall that the proper safety procedure for determining whether it was truly a "dry" tube was shown to the kids. We were all WOWed.

CAVALLA made an impression on me as a young lad, but over the years I have lost the handouts they gave to the visitors and the photographs are long gone. The other submarine I remember having made a visit was the ALBACORE. Several destoyers and DEs also made port calls on different years.

But CAVALLA stands out in my memory as the best port call by a Navy ship."

---
Return to the Cavalla Tour
---
INDEX | BULLETIN BOARD | NEWS | HISTORY | TOUR | CREWS | WWII ROSTER | PLEDGES